Make Your Next Birthday Party a Hit!
Treat your taste buds to the most amazingly fine, flavored ice cream in the Twin Cities. Cones n Creams Ice Cream experience will amplify any event! Your guests will enjoy our Ice cream truck and of course our amazing Ice cream, we guarantee to bring the fun and laughter.
We Can Accommodate Small & Large Events
Our ice cream carts and trucks are custom-designed to be versatile, are commercial-grade, and making them extremely mobile for both indoor and outdoor events. As an all-inclusive ice cream service provider, we also carry one of the most diverse and fun selection of ice cream around. Our ice cream trucks are available for catering and rental.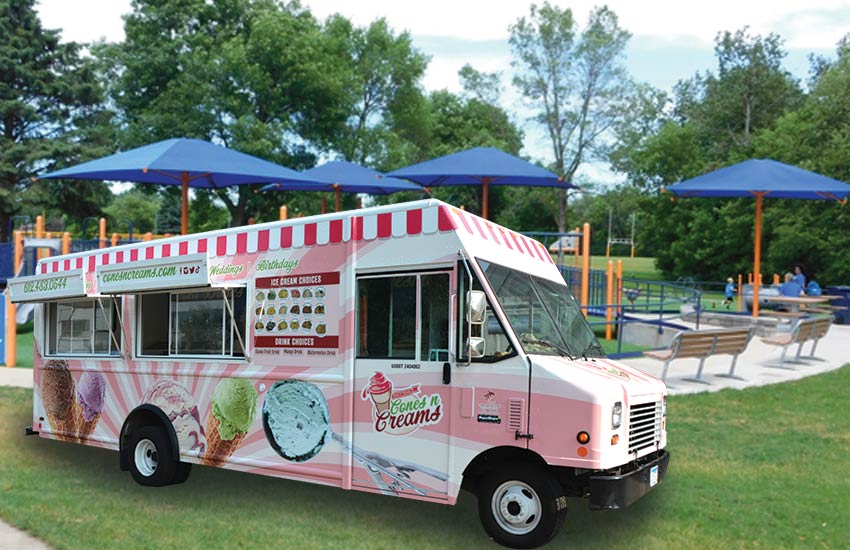 Indoors or Outdoors
Birthday Party
Whether indoors or outdoors, we handle grown ups and kids, Cones n Creams ice cream is a refreshing change of pace from the standard dessert options at events. We'll send our team take care of the details (presentation, set up, tear down) so you can enjoy the day!. No event is too big or too small. We can serve hundreds of people per hour. Contact us today!
The cost to have the ice cream truck at your event is based on the tally of the treats served plus a truck rental charge.
There is a minimum ice cream service requirement based on how long that you want us at your event and the travel distance. Please email or submit a form for a price quote.
Submit a Catering Request
or Call (612) 483-0544